Acroprint Model BP125 (Battery Powered)
All the same features and rugged construction found in Acroprint's 125 Time Recorder, the Acroprint BP125 series features battery-powered operation ideal for areas with no AC power. The Acroprint BP125 series are fully guaranteed against defects in materials and workmanship for 2 years. UL Approved. Made with pride in the USA.
Ideal for payroll time or job costing, the rugged design can withstand high volume use and harsh environments. With a large, easy to read analog clock face and rust resistant case, the Acroprint BP125 series can be mounted securely to a wall or tabletop. Its two-color ribbon can easily be changed. Works with all standard time cards.
Model BP125 Features
Powered by 4 standard alkaline "D" cells (batteries not included).
Ideal for areas with no AC power, or for mobile operation.
Issues a warning beep to let you know when the battery power is running low. A warning light indicates if the batteries have been incorrectly installed.
Economical design.
Heavy-duty time recorder handles thousands of print registrations per day.
Choice of typewheel complement.
Select left- or right-hand margin printing.
Lifetime typewheel guarantee.
Easy to set and operate.
Economical manual print operation.
Industry-leading 2-year manufacturer warranty.
Model BP125 Time Recorder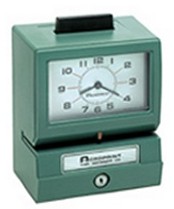 Benefits
Affordable time recording device.
Time recording device for all types of remote applications.
Quality-built for many years of service.
Versatile print registrations to meet specific applications.
Easy to set after power interruptions.
Manual print allows printing on paper.
Applications
Ideal for Remote Worksites
Time & Attendance
Time Tracking
Job Costing
PLEASE NOTE: TimeClockSupplies.com does not offer direct technical support. To save you money, all products are sold as self-install systems. If you feel you need extra technical help, we highly recommend you purchase an Acroprint support agreement. All Acroprint support technicians are factory-trained experts. You may also find the Acroprint Technical Support site useful.