Acroprint CloudPunch CP200
Web-Based (WiFi or LAN) biometric fingerprint and RFID proximity badge touchscreen tablet - no software to install
Unlike a traditional time clock that is tethered to a computer and client based software, CloudPunch uses cloud computing to allow business owners the flexibility of doing time and attendance anywhere and anytime. Additionally, the system allows extreme flexibility, letting employees punch in and out from the time clock biometric fingerprint and RFID proximity terminal, as well as from PC web browser and smartphone app.
CloudPunch Employee Management System Features
Unlimited Departments: Separate and segment employees any way you like!
Overtime: Weekly, Daily, and 7th Day options
Revision Zones: Eliminate employees clocking in early and out late to earn OT
Lock Out Zones: Eliminate punches when you don't want them
Who's In Board: See your work force status in real time!
Punch Notifications: Get emails any time any employee punches
Accruals: Track vacation, sick, and other accruals
Punch Rounding: Select from several options
Automatic Lunch Deductions: Customizable for your requirements
Time Card Approvals: 3 levels of authority to use at your discretion
Email Time Cards to Employees: Daily, weekly, or once per pay period
Multiple Time Zones: Set time zones to the employee level
Automatic Break Additions: Stay in compliance with all paid break regulations
Holidays: Track holidays as paid and set pay codes
Multiple Pay Periods: Weekly, bi-weekly, semi-monthly, and monthly
View and Print Time Cards in Batches: Look at cards one at a time or in batches
Summary Reports: Data ready to be used for payroll
Reports: Run time reports by employee, department, or system wide
Exports: Dozens of payroll exports supported, including ADP, Paychex, and Quickbooks
Self Service Online Help: Find the information you need, when you need it
Much, much, more: Online system means new features and upgrades are easily added to the system!
Advantages of Cloud-Based SW
Access data in real-time from any computer with Internet access
No need to install, maintain, or upgrade software
No expensive computers to purchase or maintain
Data is secured and stored for account lifetime
Manage multiple locations without networking computers or servers
Manage a varied workforce with clock punches, smartphone app punches, and web punches all through one interface
Pay as you go - no expensive up-front equipment or set up fees
Subscription plan includes lifetime terminal replacements, one-on-one training and unlimited customer support 5 days a week.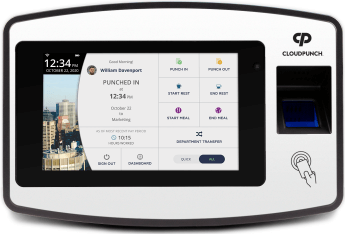 Acroprint CP200 Biometric Fingerprint Terminal Features
Sends punches to cloud software in real time, or stores punches to send when the Internet is available
Touch screen display makes selecting lunch, break, department, and job punches fast and easy
Plug-and-Play connection to your wireless (WiFi) or wired Ethernet network
Biometric Technology: secure and quick punch with a touch of a finger (eliminates buddy punching)
RFID Technology: quick punch with a wave of a proximity badge
PIN punching option
Free Smartphone App included with purchase
Compatible with any platform, including Mac and Linux
Supports unlimited departments/pay rates
Free lifetime replacements
Mobile App Integration
The CloudPunch Mobile App tracks time and attendance for your entire workforce, whenever and wherever. Allow employees to punch in and out, transfer departments and more, right on their smartphones.


CloudPunch Systems require small monthly subscription fee (click below to Sign-Up for new membership):
| | |
| --- | --- |
| Use Dealer ID: AT93461 | |
IMPORTANT NOTICE: Extremely affordable monthly subscription fees are required to use Acroprint CloudPunch Systems. Acroprint CloudPunch Time Clocks will not function without a subscription. No contract required.
1-5
Employees


$16/mo

6-19
Employees


$34/mo

20-39
Employees


$65/mo

40-99
Employees


$115/mo

100-149
Employees


$185/mo

150+
Employees


$290/mo

All monthly cloud account plans are designed for the use of two active time clocks. Add $10 per month for each additional time clock over two. Plus tax where applicable.
PLEASE NOTE: TimeClockSupplies.com does not offer direct technical support. To save you money, all products are sold as self-install systems.
You Might Also Like...

uAttend: JR2000
Web-based fingerprint + RFID time clock system (wireless and wired Ethernet)

Only $179.00
Free Shipping