Acroprint ProPunch
Advance your timekeeping system with the Acroprint ProPunch System, which includes onsite time and attendance software and biometric fingerprint time clock. The built-in biometric fingerprint scanner helps eliminate buddy punching in the workplace by preventing employees from punching for each other.
Additional punch methods include RFID and personal PIN. The ProPunch workforce management software installs to your computer, and the time clock sends punch data over LAN to the software in real time ensuring that timesheets are always up to date.
FC100 Time Clock Features
Flexible punch options including fingerprint scan, RFID proximity badge, or employee PIN
Fingerprint scanner prevents employees from punching for each other
Data transfer via Ethernet (TCP/IP)
User capacity: 3,000
Fingerprint template capacity: 3,000
Proximity card capacity: 3,000
2.8" TFT true color display, 320x240 pixels
Onsite Time & Attendance Software
View insightful analytics including who's in and who's out
Automate time card calculations and policy rules
Access to robust reports and customizable exports for payroll
Track breaks, lunches, department transfers, job tracking, and accruals
Free support for first year
Acroprint ProPunch System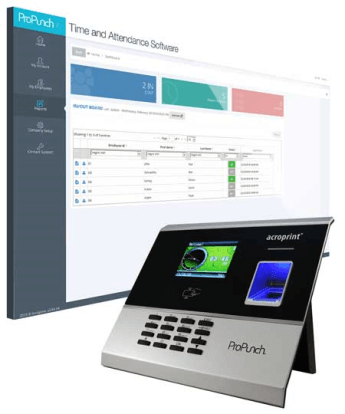 PLEASE NOTE: TimeClockSupplies.com does not offer direct technical support. To save you money, all products are sold as self-install systems. If you feel you need extra technical help, we highly recommend you purchase an Acroprint support agreement. All Acroprint support technicians are factory-trained experts. You may also find the Acroprint Technical Support site useful.