Amano MRX-35
The MRX-35 electronic calculating time clock is the next logical step from a non-calculating clock. More features. Easier operation. Fully automatic, reliable and economical, yet powerful enough to meet your needs today. Simple, clean design fits any office decor.
Features
Scalable up to 50 employees
Totals employee hours
Accumulates totals for regular hours and two overtime levels
Easily programmed through the use of programming cards
Accommodates weekly and bi-weekly payroll
Automatic Daylight Saving Time adjustment
Rounding capabilities
MRX-35 Time Recorder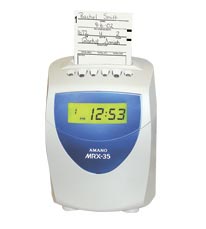 PLEASE NOTE: TimeClockSupplies.com does not offer direct technical support. To save you money, all products are sold as self-install systems. If you feel you need extra technical help, we highly recommend you purchase an Amano support agreement. All Amano support technicians are factory-trained experts.