Amano CP-5000
Amano's CP-5000 electronic time recorder is designed as a fully automatic time recorder which eliminates overprinting through the use of its mark sensing technology. Its optical sensor detects the previous mark, and time and date are consecutively printed vertically on the time card.
Features
Automatic card feeding
Automatic Daylight Saving Time adjustment
80 weekly program steps to activate features
Two-color printing
Full power reserve
Mark sensing technology eliminates overprinting
CP-5000 Time Recorder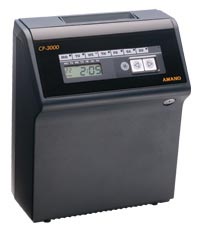 PLEASE NOTE: TimeClockSupplies.com does not offer direct technical support. To save you money, all products are sold as self-install systems. If you feel you need extra technical help, we highly recommend you purchase an Amano support agreement. All Amano support technicians are factory-trained experts.
You Might Also Like...

Amano: MJR-7000
Computerized recorder that provides fast, accurate payroll preparation

Only $850.00





Amano: MRX-35
Economical time recorder that automatically calculates employee hours

Discontinued