Acroprint ES700
Features
Atomic feature synchronizes time automatically providing accurate time from U.S. Atomic Clock.
Never needs resetting.
Over 150 print configurations.
Choose left- or right-hand margin printing.
13 preset messages:

RCVD, SENT, IN, OUT, CFMD, FILED, PAID, USED, FAXED, VOID, ORIGIN, APR'D, CMPL'D.

The LCD display indicates date, time, and day of week.
Selectable hour format (12 or 24) and choice of standard minutes, tenths, or hundredths.
Printing selections include manual, automatic, and semi-automatic print.
Font size adjustment to decrease/increase font size to fit your document or time card.
LCD light makes time card alignment easy and consistent.
Program is protected by a user selected, 4-digit numeric password.
120V/240V switching power supply adapts to different voltages throughout the world.
Industry-leading 2-year manufacturer warranty.
Benefits
Keeps time during power outages or Daylight Saving Time changes... Always on time.
Can print on any standard side-printing time card, job card, or form.
Can be programmed to print in seconds for unique applications.
Choose print formats in English, French, Spanish, or Portuguese.
Wall or desk-top mounting for easy use.
ES700 Time Recorder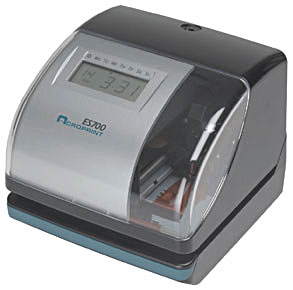 Applications
Time & Attendance
Job Costing
Time Tracking
PLEASE NOTE: TimeClockSupplies.com does not offer direct technical support. To save you money, all products are sold as self-install systems. If you feel you need extra technical help, we highly recommend you purchase an Acroprint support agreement. All Acroprint support technicians are factory-trained experts. You may also find the Acroprint Technical Support site useful.
You Might Also Like...

Amano: PIX-25
Affordable and simple all-in-one atomic electronic time recorder

Only $252.00
Free Shipping