Amano PIX-25
The Amano PIX-25 electronic time recorder automatically synchronizes to the NIST (National Institute of Standards and Technology) Atomic Clock via wireless radio signals. The PIX-25 also automatically adjusts for Daylight Saving Time while providing the benefits of an economical payroll recorder and time & date stamp functionality.
Features
Accurate, real-time clock synchronization with atomic clock functionality
Ribbon ink capacity indicator
Cartridge ribbon for easy change
Atomic Clock indicator
Quartz accuracy
Configurable print direction for left or right hand printing
Prints multiple languages and pre-configured messages
Automatically changes year, month, and date
Automatic or manual print
Programmable print styles, military or regular time
Prints in minutes, hundredths, and tenths
Internal perpetual calendar automatically adjusts for Daylight Saving Time, leap years, and short months
Clear printing on paper or time cards
3-year battery backup retains time and settings
Large, easy-to-read digital display
Illuminated print window and guide improves efficiency on time card stamping
Locking enclosure prevents tampering with settings and reduces time card fraud
Wall or desk mount provides for flexible operation
1-year factory warranty
PIX-25 Time Recorder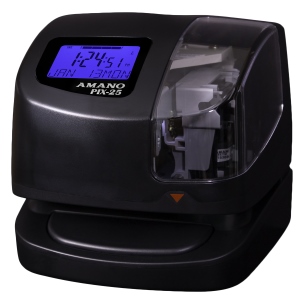 PLEASE NOTE: TimeClockSupplies.com does not offer direct technical support. To save you money, all products are sold as self-install systems. If you feel you need extra technical help, we highly recommend you purchase an Amano support agreement. All Amano support technicians are factory-trained experts.
You Might Also Like...

Acroprint: ES700
An economical electronic time clock and time stamp

Only $199.00





Acroprint: ES900
Programmable electronic time clock with signal control and numbering

Only $259.00