Acroprint ES900
The Acroprint ES900 is versatile, multifunctional time recorder, time stamp, and numbering machine for your office. It automatically identifies employee punches that are before or after normal punching periods by placing a (*) mark on the time card. It can print 13 preset comments including:
RCVD, SENT, IN, OUT, CMFD, FILED, PAID, USED, FAXED, VOID, ORIGN, APR'D, and CMPL'D
. It can also be configured as a bell ringer with optional signal control.
Features
Atomic feature synchronizes time automatically providing accurate time from U.S. Atomic Clock.
1-12 AM/PM or 0-23 hour.
Choose minutes, tenths, hundredths, or twentieths.
Prints in seconds.
Automatic date, month, and year change to 2099.
Auto Daylight Saving change.
Manual, auto, semi-auto, or combination printing.
Left or right side printing.
Adjustable margins.
Preset or custom comments.
1 to 8 consecutive numbering.
Font size adjustment to decrease/increase font size to fit your document or time card.
LCD light makes time card alignment easy and consistent.
Large and easy-to-read LCD display.
Password protection.
Wall or desk mount.
Long lasting, snap-in ribbon cartridge.
Built-in battery back-up that ensures the perpetual calendar will maintain the correct time.
120V/240V switching power supply adapts to different voltages throughout the world.
Industry-leading 2-year manufacturer warranty.
ES900 Time Recorder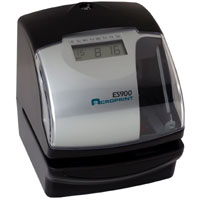 PLEASE NOTE: TimeClockSupplies.com does not offer direct technical support. To save you money, all products are sold as self-install systems. If you feel you need extra technical help, we highly recommend you purchase an Acroprint support agreement. All Acroprint support technicians are factory-trained experts. You may also find the Acroprint Technical Support site useful.
You Might Also Like...

Amano: PIX-200
Atomic/radio controlled time recorder with ribbon life indicator

Only $299.00
Free Shipping