Amano PIX-200
The PIX-200 is an all-in-one electronic time recorder and date stamp designed to meet the typical needs and special requirements of contemporary business. The PIX-200 includes a wide variety of standard features and offers a set of optional accessories with unique functions. The clock is great for use in applications from simple time and attendance tracking to more sophisticated computer communication and time synchronization.
Features
Atomic/radio controlled clock
Ribbon ink capacity gauge
31 selectable preset imprint formats: prints year (2 or 4 digit), month, day, hour (AM/PM or 0-23), minutes (regular, 10ths, 100ths), seconds, 8-digit number and comments
Customized comment imprint (up to 3 lines)
Consecutive numbering with automatic reset function
Many optional features
PIX-200 Time Recorder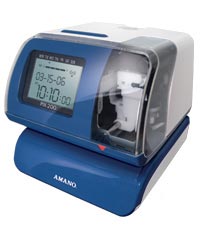 PLEASE NOTE: TimeClockSupplies.com does not offer direct technical support. To save you money, all products are sold as self-install systems. If you feel you need extra technical help, we highly recommend you purchase an Amano support agreement. All Amano support technicians are factory-trained experts.
You Might Also Like...

Acroprint: ES900
Programmable electronic time clock with signal control and numbering

Only $259.00





Acroprint: ES700
An economical electronic time clock and time stamp

Only $199.00