Amano PIX-4000
The PIX-4000 is a heavy-duty economical, and fully automatic electronic cost and payroll recorder as well as a time and date stamping machine. This machine prints year, month, date, hours, minutes and seconds, as well as 4 or 6 digit numbering. It can be programmed to print up to 3 lines with any alphanumeric characters and has an illuminated LCD display and print area.
Features
Made in the USA
Heavy duty time recorder / document stamp
Over 50 selectable present imprint formats
Year (2 or 4 digits)
Month (name or number)
Hour (AM/PM or military 0-23hr)
Minute (regular 60th, 10th, or 100th)
Seconds (2 digit)
Numbering (4 or 6 digits)
13 selectable comments - (REC'D, SENT, PAID, VOID, FILE, FAX'D, etc.)
9 selectable languages
Customized consecutive imprints up to 3 lines
Consecutive numbering with auto reset
Customized nonconsecutive imprint (2 lines)
Select 2 zone programmable print function
Automatic Daylight Saving Time adjustment
Ink ribbon life indicator
Selectable automatic or manual print
Easy-to-replace ribbon cartridge
Key Benefits
Large illuminated easy to read display
Illuminated print window for clear alignment of media
Print position adjustment
Optional password to prevent tampering
Wall or desk mount
Optional full power reserve (72 hours or 400 punches)
Optional external signal device (up to 20 weekly program times)
PIX-4000 Time Recorder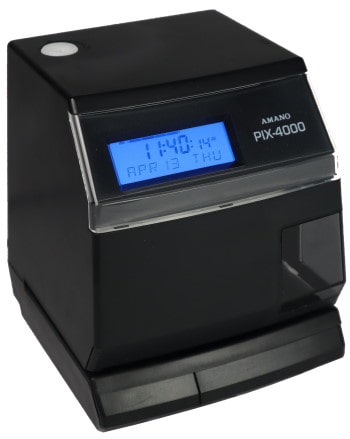 PLEASE NOTE: TimeClockSupplies.com does not offer direct technical support. To save you money, all products are sold as self-install systems. If you feel you need extra technical help, we highly recommend you purchase an Amano support agreement. All Amano support technicians are factory-trained experts.
You Might Also Like...

Acroprint: ES700
An economical electronic time clock and time stamp

Only $199.00





Acroprint: ES900
Programmable electronic time clock with signal control and numbering

Only $259.00