Amano TCX-21
Engineered for value, simplicity, and durability, the Amano TCX-21 electronic time clock offers reliability for most applications.
Features
Easy to use, accurate, and efficient
Large, easy to read analog clock face and digital date display
Memory backup for power failures
Perpetual calendar automatically adjusts for Daylight Saving Time
Selectable print options: prints AM/PM or military time (0-23) minutes, 10ths, or 100ths
Cartridge ribbon for easy replacement
Table or wall mounting
TCX-21 Time Recorder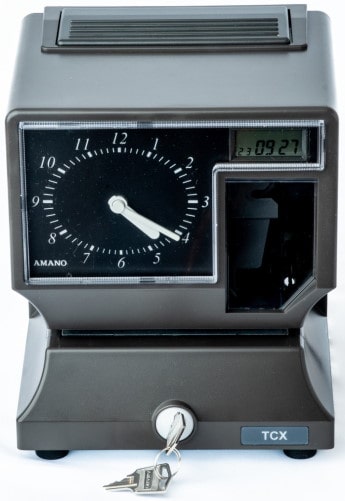 PLEASE NOTE: TimeClockSupplies.com does not offer direct technical support. To save you money, all products are sold as self-install systems. If you feel you need extra technical help, we highly recommend you purchase an Amano support agreement. All Amano support technicians are factory-trained experts.
You Might Also Like...

Acroprint: ES700
An economical electronic time clock and time stamp

Only $199.00





Acroprint: ES900
Programmable electronic time clock with signal control and numbering

Only $259.00